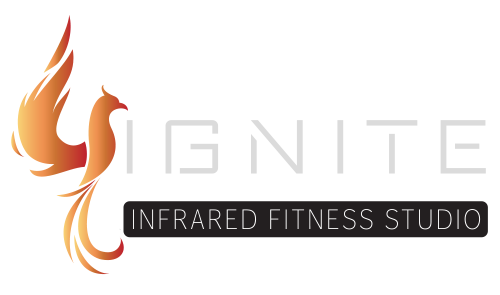 Infrared Yoga Sculpt
A high-energy total body workout designed to sculpt every major muscle group by combining yoga with weights and cardio. Yoga Sculpt gets the blood pumping and the breath flowing, burns an incredible amount of calories while strengthening, lengthening, balancing and fortifying from the outside in.
You will leave feeling uplifted, accomplished and refreshed.
Modifications are offered in all classes, so this class is good for all practice levels.
Most of our Sculpt classes are 45-minutes.
The 5:15am Sculpt classes and Saturday/Sunday Sculpt are 60-minutes.
Sunday at 6:30am we have an extended 75-minute Endurance Sculpt (subject to change).
Infrared Yoga Strong
This class is designed to push your muscles outside their comfort zone, forcing them to rebuild stronger to prepare for the next challenge. Expect high repetition toning moves incorporated with the Yoga flow, while adding in hand weights and resistance bands to give you an extra edge on burning big calories and maximizing the efficiency of your workout.
Modifications are offered in this class  – so is appropriate for all levels.
Infrared Strength Circuit
This class is designed to condition your body by incorporating a combination of heavy weight exercises and short bursts of cardio to create a circuit. Targeting strength building and muscle endurance, Infrared Strength Circuit is a great way to build and tone muscle.
Infrared Intense Intervals
Amp up the activity level of your yoga practice by adding some HIIT to your workout schedule. This high-energy approach combines short intervals of fast-paced activities with short periods of active recovery.
Infrared Hot 60
The traditional patented 26 poses and 2 breathing exercise do not change in this class no matter where you go around the world. It is a great way to gage your balance, strength, and flexibility along your practice.  Good for all levels.  
Infrared Restore
Soft tunes, low lights, chill vibes, and long holds. Gentle flow to stretch and open up the whole body. Progress to long holds using props to create an active relaxation for your mind and body. This is great to help your body work through any built up tension. 
About Ignite
A place to connect. Connect to your WHY. Ignite the passion of life again by pushing your body and mind further than you thought you could.