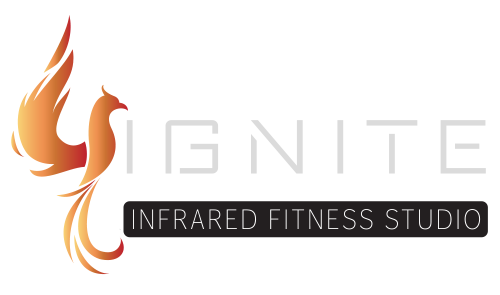 I love attending classes at Ignite! It's exactly the atmosphere I need to step away from my day and sweat it out on the mat. The instructors are all very encouraging and bring great energy to class. It's a completely judgement free zone and there's a class for everyone. I'd highly recommend Ignite. Attending classes there truly has become one of the best parts of my day!
The instructor was upbeat & energetic. The class was fast paced which means less time to think about how much/bad it felt- in a good way. Very kind & helpful participants and staff for a first timer.
I LOVE Ignite classes. Full body workout with the best sweat detox that comes from the combo of the heated studio and hard work! I always leave feeling so much better physically and mentally. The studio is extremely clean and the cold towel that smells incredible that you get at the end is such a treat!
Incredible workout! A sense of belonging upon entering. Clean studio. All the standard 5 star ratings…but there's more to this studio. The instructors support each other and also take each other's classes…a huge testament to the foundation of Ignite. They want each other to succeed…as well as their members. The passion is evident from the moment you walk in the door. It's not just another studio…Ignite has a heartbeat. 5 stars…10/10 recommend.
Sometimes we get complacent and do not write good reviews when things are awesome but it's easy and natural to complain and write a review when things are bad. I'm guilty at just that (just this morning, I did a negative review). I am out of town and decided to try a workout while being away from my home gym "Ignite". I had a terrible experience which left me super sad and disappointed. Well, it made me think how thankful and amazing Ignite is (which I already knew). From the moment I started going to Ignite, all of the front desk staff workers to the instructors, everyone always has such positive energy. As new members start, they give tours and show you exactly where things are. They make you feel comfortable in their space. Ignite isn't just a gym, it's a community of love and family. I have never felt more comfortable walking into a new space. I have tried several different types of gyms and workouts over the years and there is nothing like Ignite. The energy the instructors have during workouts is so motivating. I love that the instructors even go to the other instructors classes. This gym is full of support from everybody, even the members. I could go on and on about Ignite. Oh, and the playlists are always bomb!! 🙂
About Ignite
A place to connect. Connect to your WHY. Ignite the passion of life again by pushing your body and mind further than you thought you could.